3 Spots You MUST Go to in Paris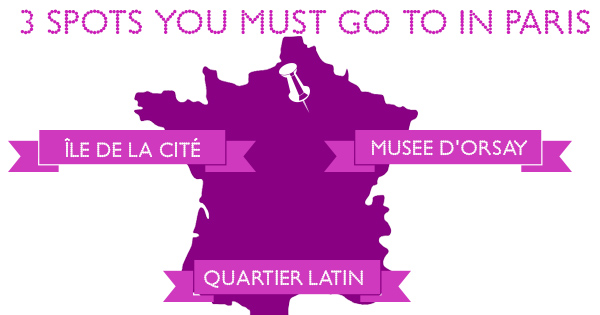 Paris is by far one of the most popular tourist destinations in the world. Of course, you've probably heard of the Louvre, Notre Dame, the Moulin Rouge, and the Eiffel Tower, but what about the lesser known but just as awe-inspiring sites in Paris? To get a better picture of just how much Paris has to offer, here are three smaller tourists sites that will be sure to leave their mark when you visit the city:

Île de la Cité: The Île de la Cité is one of the two natural islands in the Seine River. Known as the location of one of the first settlements in the city's history, having been inhabited by the Gallic Parisii tribe in pre-Roman times, the island hosts the Cathedral of Notre Dame and other historic sites. The Pont Neuf, for example, is a bridge that extends to the west of the island. It's Paris's oldest bridge, being built in the 16th century by King Henry III. Other famous sites in the island include the Conciergerie (an old prison that held among other illustrious figures Marie Antoinette), the St. Chapelle Church, and the Place Dauphine.

Quartier Latin: The Quartier Latin or "Latin Quarter" is considered one of Paris's "intellectual" haunts, having hosted some of France's most famous artists, writers, and intellectuals. Bisected by the Boulevard St. Germain and the Boulevard St. Michel, you can find the Cluny, one of Paris's most famous bistros, and the Shakespeare and Company Bookstore, an English-literature bookstore founded by Sylvia Beach that was frequented by Ernest Hemingway, Ezra Pound, and James Joyce (who published one of the most important works in English literature,Ulysses, there in the 1920s).

Musee d'Orsay: The Musee d'Orsay is one of Paris's most prestigious art museums. Along with its big brother the Louvre, the Musee d'Orsay is host to some of the world's most famous artworks, including those by Van Gogh, Renoir, Monet, Cezanne, and Matisse. Built in a former train station and a location for several films such as Orson Welles' The Trial, the Musee d'Orsay provides hours' worth of fun and enchantment.

And what better way to enjoy all of these landmarks than by staying in Paris luxury apartment rentals? Paris luxury apartments are the piéce de résistance of sorts to any trip to Paris. Apartment rentals are easy to set up and are more than worth it in the City of Lights. To find out more about luxury apartment rentals, feel free to leave a comment or question at the bottom.